Laurent Vaucher the CEO of TeleVerbier has announced its COVID protection policy for the current winter, in line with may European resorts especially Austria. It come in 3 separate points:
1. Clean and Safe
TeleVerbier have obtained the 'Clean and Safe' label from Swiss Tourism. This means that are following the industry specific guidelines to make sure sanitisation and social distancing is followed.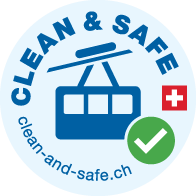 2. Restriction free operations
Cableways are classified as public transport so follows the same regulations and buses and trains. This means that currently there is no lift/skier capacity restrictions but you will need to wear a mask in lifts and queues. It is not known yet if buffs or other types of face coverings are acceptable. This situations is caveated by any new measures or restrictions imposed by the governments. Let's hope it doesn't change. Click here for more information.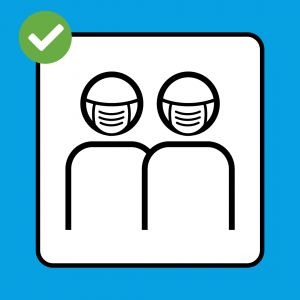 3. Lift pass reimbursement due to COVID restrictions
There will be a pro-rata reimbursement of your pass in the case of new government-imposed isolating measures, such as a quarantine, confinement, resort closure, etc. Click here for more information
New Ski lift in Veysonnaz – Piste de L'Ours new 8 man gondola
We are all very excited to hear that TeleVerbier are to upgrade the old 4 man chair in La Chaux to a shiny new fast 6 man, as reported recently on Verbier.com. This will indeed make a difference to those who have outgrown Les Esserts and want a fat lunch in Le Dahu.
But the real game changer is happening over in the 3rd Valley, Veysonnaz. A couple of years go TeleThyon upgraded the old gondola from Veysonnaz town to Thyon. Not only did it reduce the time by about 7 minutes, the wonders of automatic doors meant that you no longer needed a lift assistant to lock you into the tin can and another to release you at the top..!
This year it the turn of the Piste de L'Ours. Described by a French downhill skier as 'the most beautiful piste in the world' the Bear piste is a steep, long and undulating piste lined by trees. It is the scene of many FIS World Cup downhill competitions over the years. Although the lift used to be the fastest in Europe in 1981, it certainly isn't now with a bottom to top time in excess of 15 minutes. The new Piste de L'Ours gondola will halve the time which means you will have time to do at least 2 thigh burning runs of the FIS downhill before a well earned lunch at the Le Bois Sauvage in Les Masses.
Even with the miserable weather we have been experiencing over the past month they are continuing with the Bruson lift installation. Certainly no arguing whether it is going to happen now!
This month Téléverbier published an update on the lift projects for the coming years. We all know that the Bruson lift project has started and will be ready for December 2013. There will also be more snow cannons on Le Rouge and Savoleyres areas. Although there is no real date for the replacement of the ageing Savoleyres lift they say the following
COMBIMIX LES ESSERTS – LES PLANARDS – SAVOLEYRES
The proposed new facility for serving Savoleyres was submitted to the Federal Office of Transport for approval.
Given the complexity of the case, it is difficult to estimate the duration of the procedure. We hope that this groundbreaking lift, comprising a first section served by cabs and a second mixing section cabins and seats can be built in 2014.
We look forward already to be able to unite our main skiing areas.
Lets hope this is true..!
Toby
So, news just in is that Bruson goes ahead and work starts this week. Honestly.
The lift is going to get you from Verbier (Medran), down to Chable and up to the midstation at Bruson in less that 20 minutes – which is usually the time it takes to leave Medran and get on the bus if you're heading to Bruson via Le Chable at the moment…
There's a link to a little video (in French) by Canal 9 below – watch it even if you don't speak french, the pictures are nice.
But it give us a little idea of what's coming and what it'll look like. According to the report building work starts today, and completion is for December 2013. And this time they mean it.
If you've never skied Bruson then frankly you haven't lived, you can check out this post from a massive powder day last year…
We'll get up there soon and have a look to see exactly what the work entails but any movement on this one is good movement…
(And if you want to see what the new lifts will look like, either click here or you can pop up to Medran where there's a cabin on the roof. Yes. On the roof).