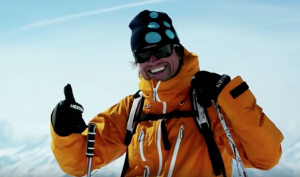 What skis are you skiing on?
Piste – Head Supershape IRallye        Off piste – Faction Prime 4.0
How did you end up in Verbier

I was working in Greece (Athens & Tolon) as a tour guide doing excursions to all the ancient sites like Acropolis, Olympia, Oracle in Delphi and so on. The company i worked for did ski trips as well and they found out i was a ski instructor. I then got asked if i wanted to go to Verbier to take care of their guests as a guide there, Of course I did and i fell in love with the place and never left.
Best thing you've ever done
Well i guess being a dad of four kids is up there above everything else but there has been a lot of cool stuff along the way especially on skis.
Top teaching tip
Create a good foundation, your position (how you stand) on your skis is crucial to be able to add other skills, this is something that even world cup skiers keep working on throughout their careers.
Favourite slope in the 4 valleys
Tracouet – Nendaz, 800 vertical meters of pure joy, a wide rolling slope with loads of fun changes and long enough to make even the most experienced skiers want new legs….
Favourite restaurant
Restaurant Le Bois Sauvage across the Four Valleys in Hérémence, great atmosphere and fantastic food to a very reasonable price, in Verbier i love Dahu.
Best place for drink
Pub mont fort, it is the classic after ski place in Verbier, If I'm hanging out with more civilised people (which i rarely do) a good glass of vine on the Vinabagnes terrace is really nice.
If your clients need to see or do only one thing while they are in Verbier what would it be according to you.
Go ski in the four valleys, surprisingly a lot of people never get past the slopes of Verbier. Both Veysonnaz and Nendaz offers some of the best skiing you can have in this area.