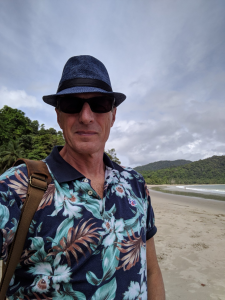 What skis are you skiing on?
Black Crows Vertis, Stockli Stormrider DP Pro
How did you end up in Verbier?
Found the place that has everything…and stayed
Best thing you've ever done?
Climb Mt Blanc with some military veterans
Top teaching tip?
Don't clench your toes in your ski boots
Favourite slope in the 4 valleys?
Fontanets
Favourite restaurant?
Chez Dany
Best place for drinks?
Bar Le Croc
If you're clients need to see or do only one thing while they are in Verbier what would it be according to you?
On a clear evening be the last one to ski down from Les Attelas
Thank you Trevor, have a great season!
Of course, there aren't two Gareths. Just one and that's plenty. But we went for a little ski today and it was, as we have become slightly predictable in saying, EPIC.
There has been some snow and some wind and all that, and if you drop off the sides of things you can find some really good snow (call Powder Extreme and they can show you where) but most importantly it's sunny, clear and everything looks pretty.
There are a lot more photos to come, although none utilise the iPhone's new panorama photos to quite as amusing effect as this one. So enjoy it while you can.
Yes, as predicted the sun is back out and revealing the extent of the snow.
Now RHS will get all cynical and tell you it'll never last. He's probably right. But whether or not it stays in Verbier doesn't matter. What matters is that there's a decent amount at lac des Vaux… Ready for November 5th…
Well, confession time. Olly emailed me a load of photos of snow in New Zealand in July and somehow I failed to bring you and his artistic efforts together.
So sorry Olly.
But not too sorry for failing to share photos of you and your new passion – crown green bowls. Not exactly Rock and Roll.
The good news in Verbier is that the weather looks set to turn and we should be getting snow on (depending on who you listen to) Thursday night, Friday or Saturday.
Needless to say we'll keep you posted… You can follow us here on the blog, on twitter, or click 'like' on our facebook page and follow it all there….