Anthony walker ski instructor interview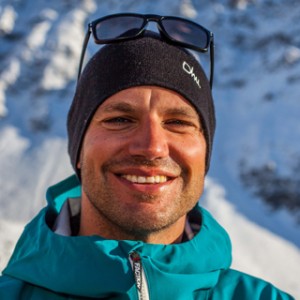 How did you end up in Verbier?

Having only completed half a season (slight accident with a tree on a snow board cut it short) straight after Uni, I still felt I had some unfinished busiess in Verbier. Whilst sat in a stuffy office looking out of the window one afternoon, I finally plucked up the courage to follow my dreams and do what I wanted to do. It only took me 9 years to do it, but I'm really glad I quit my job and followed my heart. 
What skis are you skiing on? 
Piste – Fischer PROGRESSOR F19 TI
Off piste – Rossignol Soul 7
What is the best thing you've ever done?
Being selected for the Pub Mont Fort ice hockey team. I really missed team sports and the feeling you get after a tough game. I was totally useless at ice hockey when I arrived in Verbier but luckily I had a good friend who would spend hours practising with me on the ice during the summer and winter, eventually getting me to a decent enough standard where I could actually skate without falling over (imagine bambi on ice). It's great fun and a fantastic way to get to know the locals. They even pass me the puck now!
Your top teaching top?
Confidence. If you can believe in your abilities and have the confidence you can do it then you definitely can. Having been a complete beginner trying to play ice hockey a couple of years ago, and seeing everyone else whizzing past me, I can empathize with new learner skiers or skiers who want to develop a particular skill area but feel they are being blocked for one reason or another. By giving someone confidence you are unlocking a person's potential to maximize their own performance. Skiing is as much psychological as much as it is physical.
Which one is your favourite slope in the 4 valleys?
Savoleyres airport run. It is perfect for all standards of skiers. Usually well groomed, flat enough for nervous skiers, but steep enough to develop skills of more intermediate or advanced skiers.
Best restaurant?
Cabane Mont Fort for the stunning views and authentic Swiss cuisine and Restaurant Le Bois Sauvage across the Four Valleys in Hérémence for the great atmosphere and fantastic food (my best friend is the patron and Head chef!).
Where is the best place for drinks?
Fer a Cheval. Great spot for people watching and always a great atmosphere with a good mix of locals, tourists and ski instructors. Plus you get a slice of free pizza.
If your clients need to see or do only one thing while they are in Verbier what would it be according to you?
Catch a snow taxi up to Marlenaz restaurant above Patier for dinner and either sledge or walk down. Spectalular whatever the weather, amazing stargazing, and great fun, with the family or with a group of friends.
Thank you Tony and good luck with the hockey this season!