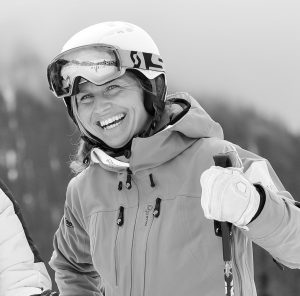 What skis are you skiing on?
Extrem PT84 (all mountain), Armada VJJ (powder)
How did you end up in Verbier?
I came to Verbier the first time five years ago to visit one of the coaches at Powder Extreme. One visit turned into two, three and four that same season and today we have a 4 year old son and are going to spend our fifth winter season as a family in Verbier.
Best thing you've ever done?
Best thing… There are so many great things to choose from. One of the best things is when I catched the first gondola up to Mt Gelé together with Anders (my partner). It was the first sunny day after a BIG snowfall and I remember getting strict instructions even before entering the gondola; "We are getting on last so that we can get out first and then when we get up, we run. You just follow me, ok?". We had the most amazing powder run and I was laughing all the way up again for the next run…
What is your top teaching tip?
To find out what would contribute the most to the client and share my passion for skiing with them.
Favourite slope in the 4 valleys?
Cruising down from Col des Gentianes to La Chaux, I love that run.
Favourite restaurant?
On the slopes, Cabane Mt Fort for its authenticity and simple yet delicious food. In Verbier, Le Shed for its amazing burgers and fries.
Best place for drinks?
The sunny balcony at Pub Mt Fort after a great day of skiing or a glass of wine at cozy Fer a Cheval before dinner.
If you're clients need to see or do only one thing while they are in Verbier what would it be according to you?
The amazing view from the top of Mt Fort!
Thank you, we hope you have a great season Johanna!
Tom Avery one of our major parters (Verbier Excusive) and 3 fellow explorers George Wells, Patrick Woodhead and Andrew Gerber have set out to beat the existing record set in 2008 and is 17 days, 21 hours and 30 minutes achieved by Patrick Peters and Matt Spenceley, a Luxembourg/British pair.
Unlike traditional expeditions the team are using kites – similar to kites used for surfing – to pull themselves and the sleds across the flat stretches.
A handful of teams (from Canada, Norway and Sweden) have crossed Greenland's ice cap in faster times, but the 67°N team's goal is the full coast-to-coast record. They aim to complete the Greenland crossing, made famous by Norwegian explorer Fridtjof Nansen in 1888, in just 10 to 12 days – a challenge many have deemed too ambitious. By comparison, Nansen's legendary crossing, which sparked "The Heroic Age of Polar Exploration" took 49 days.
67°N team are sponsored by CatCo Reinsurance a regular client of Performance Verbier
You can read more about the team at the 67°N website and follow their progress on an interactive map.
We have mentioned it before but Bruson is a gem. OK you need to leave Verbier and all that makes Verbier epic – always a tough decision.
But it's only a couple of lifts (far quicker than heading the opposite direction to the 4 Valleys) and you get empty pistes, no queues and on days like today the conditions are perfect – plus there's powder after Verbier has all but run out and usually visibility when Verbier is cloudy.
I mean, why wouldn't you?
Now, its' also a bit of a secret, but we have grown to feel we can trust you. So just keep it to yourself.
Oh, and we can also tell you that the terrain is epic – it's like Savoleyres if you put Savoleyres on steroids. And sent it to a beautician.
Which is precisely why we ski there on our rare days off and why Rich, Gina and I nipped up for a few hours today. Grins were huge and even the odd high speed tumble couldn't wipe them off…
But it's not all about Bruson
No, as much as we act as the self-appointed Bruson Tourist Office there is news in Verbier and beyond – yup it's been snowing again. And is set to continue with enthusiasm.
In a season when the start was "muted" to put it politely, it's actually turned into something of a corker. And it's due to dump this week, so as the sunshine starts to beat down from now until the end of April it's time to enjoy the snow and build up a cracking tan while you're at it.
Should you be pondering a bit of Easter or spring skiing, I hope that tips you over the edge. We can even take you to Bruson to make sure you tan in peace and quiet…
PS There's a free lesson if you can spot anyone else on the pistes apart from us – and no, the liftie in the last picture doesn't count… Or the two people touring on the Six Blanc.
We promised we would add more video updates and this is evidence we weren't making it up. So enjoy this montage of pretty pictures of mountains and brace yourself for one that has better editing and a more measured delivery to camera soon…
It's all finally happening in Verbier. After a few false starts and couple of powder days it looks like we're in for another Snowmaggedon (click here for the previous videos) with up to (and possibly more than) a meter coming on Thursday and Friday.
Happy days.
And with news like that it's easy to overlook a cheeky foot of fresh snow which is about what we had last night.
And luckily for you Laura, Ben and I went for a ski, had a look and made a little video. Enjoy.