Meet our new instructor Evie Kock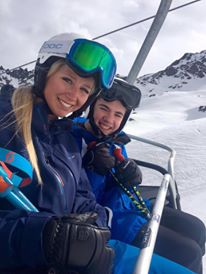 How did you end up in Verbier?
Came for two weeks and took my level 2 exam, fell in I love with the skiing and town so I never left ! 
What skis are you skiing on this season?
Head Ispeed and Head Magnums
What is the best thing you've ever done?
 Sky diving in New Zealand was amazing and cycling Death road in Bolivia…..tired legs but what a trip!
Your top teaching tip?
Never rush things, always try to be patient and stay relaxed.
What is your favourite slope in the 4 valleys?
Bruson Itinerary is a great run that i always enjoy.
Favourite restaurant?
Le Dahu, the terrace, the food and the speedy service.
Best place for drinks?
Pub mont fort, bit of darts or just hang out on the terrace and listen to all the stories being told.
If you only had time to do one thing in Verbier what should it be?
Whether you ski down or not, it is definitely worth taking the cable up to the top of mont fort on a bluebird day, those views are to die for.
Thank you Evie and a big welcome to the team!