Get to know our instructor Caroline Powell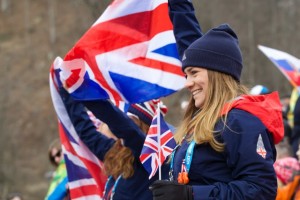 How did you end up in Verbier?
I came to Verbier over 6 years ago to work as a ski instructor. After a career as a professional athlete with limited funding I wanted to earn a living doing what I loved.
Ski Instructing is more to me than just teaching someone to ski, it's about offering them a lifetime experience and building a safe, fun and exciting environment for anyone and everyone to enjoy the mountains.
Your teaching top tip?
My top tip for anyone coming to the Swiss Alps is to make sure that you keep on smiling, whether you are a beginner or an advanced skier you will come across times when learning becomes difficult, yet it's important to not stress yourself out.
People learn in different ways and as a disability and able bodied instructor I understand the importance of being adaptable and patient.
But just remember, you will be surrounded with some of the worlds most beautiful views, so when you fall over or forget to change something in your skiing we'll be here to help you back up or change our teaching approach so that you can understand something a bit easier.
What do you ski on and why?
We have some great in resort specialists who will provide you with some well tuned rental gear but for me I used to choose an all round 170 Salomon ski that would allow me to go anywhere on the mountain. Salomon are a very versatile and forgiving ski, they are not too heavy providing a lightweight feel underfoot. They also tend to be softer allowing you to make a cleaner turn easier without having to but too much weight through the ski.
Now as I am putting a lot more power into my skiing and becoming a lot stronger, I am looking to change over to a stiffer ski, brands such as Rossignol and Head are great for this.
Anything I can't miss when in Verbier?
Verbier is a great place to be, there's definitely some hidden gems across the 4 Vallees to visit whilst on a ski lesson. One of my favourite spots has to be saluting the sun from the top of Mont Fort. With it's accessible ski lifts, you are able to access this 3330m peak on foot or, for the advanced skiers, there's some challenging unpisted terrain to ski after a hot chocolate at the peak.
Whether you choose to be guided through the Swiss Alps or want a skill-filled lesson, you'll be sure to build up an appetite and we can definitely recommend some great restaurants wherever you are.
A favourite of mine is Le Carrefour, it's not only accessible by foot or ski, but any level of skier can get there. It has a great selection of French, Swiss and European food and suitable for people with dietary needs too.
Eat and drink favourites in town?
After you've finished a hard day's ski through the Vallees, head down to the Pub Mont Fort for a drink, with its lively local atmosphere and sun trapped balcony, you'll definitely be able to relax and enjoy yourselves whilst the sun goes down.
If you'd like to pop out for some evening supper Verbier has some beautiful restaurants from delicious Swedish burgers at Le Shed to beautiful delicately made meals at Chalet Adrien offering a great wine list for people wanting to see what Switzerland has on offer.
The nightlife in this little Village is definitely lively, make sure you head to the centre of town we're you'll find a selection of bars to dance the night away.
I hope that my little insight in Verbier gets you excited for Winter and I look forward to seeing you on the slopes!
Thank you Caroline for sharing your knowledge with us!