Get to know our ski instructor Hetti Lowndes a bit better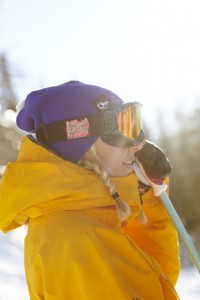 How did you end up in Verbier? 
When I was 17 I qualified to become a ski instructor. I knew I wanted to teach so started looking for jobs straight away. I had an interview with a company that were willing to believe in me even though I was so young. Just by chance the job happened to be in Verbier! Luckily for me it just happened to be the best place I could have gone. 12 years later and with lots of people's support, I'm still here! 
What are your favourite skis?
Black crows all mountain ski (pink ones),
Fisher RC4 piste/race ski.
What is the best thing you have ever done?
I have been very lucky and been a lot of places but probably this was all due to me moving abroad when I was 16.  Probably the best thing I have ever done! To take the leap and leave school and the country, started me off on a great life of adventure.
Also Have to mention what I see as one of the biggest achievements in my life, passing my euro test (A race test that is part of the top level qualification for ski instructors).
Your top teaching tip?
Keep it simple….
Everything we do in our skiing is derived from our very basic skiing technique. Therefore if it is wrong In the basics it will be wrong when you get faster on harder terrain.
Don't over complicate, pick one thing to change and work on it from slow to fast till you have achieved what you were after.
I know there is probably a few but what is your favourite slope?
Fontanet. All routes 😉! Especially when it's busy and you want to avoid the 'M25' on your way home.
Best meal on the mountain?
Carrefour,  Rosti creblet is unbeatable.
Where do you go for drinks?
Two favourites.
The Loft is a firm favourite of mine (friendly and fun staff), you can go there anytime and feel welcome. If you want a more expensive glass of wine from time to time then definitely head to Vina Bagnes.
Must do in Verbier?
Savoleyre sledge run!
Thank you Hetti and hope that your sledge is waxed and ready for the winter!!