Get to know our ski instructor Stuart Munslow a bit better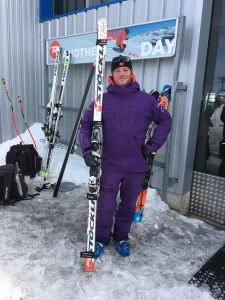 How did you end up in Verbier?
When I first qualified (as an Instructor), I emailed every single ski school, (Performance weren't around then by the way) in every single French speaking resort in Switzerland. So, completely by accident really, I guess I just got lucky!!!
What skis are you skiing on this season?
Stockli Laser SX, Faction 3.0's
What is the best thing you've ever done?
Mmmm, not sure I could pinpoint just one thing as 'the best'. I love to work and I love to travel, so, as long as I'm busy and 'moving' I'm extremely happy. Probably why I enjoy Verbier so much. Mind you, there's always Lords. I do like Lords.
Your top teaching tip?
Be patient with yourself and, trust yourself. Skiing is a life thing, it takes time. On a slightly more technical side, when standing on your skis, try your best to keep your hips forward, as you would (stand) if you weren't wearing skis.
Your favourite slope in the 4 valleys?
I think I'd have to agree with Olly and say the Jean-Pierre in Nendaz-a really good long red, snaking through the trees all the way to the village. I do also really enjoy Chassoure-Tortin and the different challenges/experiences it offers in just one run.
Favourite restaurant?
As I'm an only child I'm taking 2. Firstly, Carrefour. I know that's a really 'standard' answer but it's just good quality hearty mountain food and the service is pretty much spot on every time. Secondly, Chez Dany. I just love the location. I love the ski to it and the staff there are always super friendly!!!
Best place for drinks?
On the mountain, on a sunny day it has to be Chalet Novelly for me. However, if we're in town you may occasionally catch me in Vinabagnes enjoying a nice quiet glass of red!!
If you're clients need to see or do only one thing while they are in Verbier what would it be according to you?
If the conditions are right and you have the (ski) ability, make Col des Mines your last run of the day. Enjoy the silence as you traverse the top of Vallon D'Arby in the shade but then, as you pop over the Col to be greeted by a beautiful warm sun as it's setting, with the whole of Verbier at your feet. It can be spectacular.
If you're not quite at 'that' level yet, still take time to head to the top of Mont Fort or Mont Gele, the views are breathtaking and don't worry, you can take the lift back down. If you a complete beginner, still take some time to head up, maybe for a nice lunch but it's when up 'in' the mountains, you begin to understand why we all love them as much as we do.
Thank you Stu, hope you have a great winter!