Get to know our ski instructor Tom Barwick a bit better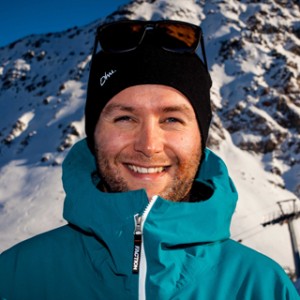 How did you end up in Verbier?
I did a number of ski exams in Verbier before moving here. My wife and I loved the skiing and also the life it offers. In spring you can ski in the morning and be in shorts and T-shirt walking by Lac Leman/Lake Geneva in the afternoon.
It was also a resort where my wife and I could both work (she's a hairdresser). We've also just bought a house so it's going to be home for quite some time.
What skis are you skiing on?
For piste Dynastar Speed Course. They're my 3rd pair in ten years and I'm yet to find something better so I just keep going back for more. A bit like Verbier.
I need to buy another fat pair, to cope with all the snow we will get this winter!
Best thing you've ever done?
A safari in Tanzania. Watching the sun rise over the Serengeti, looking down on the Ngorongoro crater, being woken by Zebra eating outside our tent. There are so many amazing memories from that trip.
What is your top teaching tip?
For beginners – get as fit as you can and work on increasing leg flexibility before you come on holiday. It will make a huge difference to your progress in your first week.
For everyone – tune in to your feet. Shifting your weight from your little toe to your big toe, from the ball of your foot to your heel. These seemingly small movements can make huge differences to your performance. Practice these movements (even off snow) to get used to what these small adjustments feel like.
Favourite slope in the 4 Valleys?
Gentianes red down into La Chaux. On a quiet day it's great for fast long turns.
Favourite restaurant?
Carrefour. I could eat the Rosti Creblet every day. Dahu wins for choice though.
Best place for drinks
Everyone has already mentioned all the usual places but I think Relais de Neige (for apres fun) and Vie Montagne (for something a bit less lively) will be treading on some toes this season.
If your clients need to see or do only one thing while they are in Verbier, what would it be according to you?
The top of Mont Fort is spectacular. It'll look even more amazing this year due to all the snow that is forecast!
There's also a great new hair and beauty salon 😉 (The Chapel) on the Route de la Poste where you can pamper yourself (hair, nails, massage).
Thank you tom and hope you and wifey have a great season!