Heading Off piste?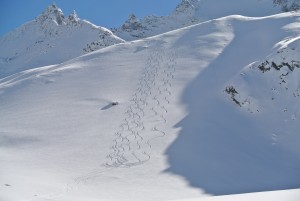 Heading off-piste?
Finally! The snow is here!
After a long a patient wait we are finally getting our fair share of snow. Televerbier have done a fantastic job maintaining the pistes so far this season but with all this new snow some of you may plan to venture into the natural and un-controlled terrain.
Skiing in the off-piste is a lot of fun and Verbier boasts some of the best freeride terrain in the Alps however, it can also be very dangerous. So before we go hooning off into the wilderness of powdery goodness here are a few things to consider.
Avalanche safety equipment
If you are skiing off-piste you MUST have the following and this applies to all of the people you are with:
Avalanche transceiver (with a battery that isn't about to run out)
Snow shovel
Avalanche probe
(And a back pack to carry it all in)
These are the basic things you need to have with you. Treat them all as one and not three individual things – They all compliment each other and are all useless if you were missing one. Also, just because you own (or have rented) these three pieces of equipment I recommend you have some sort of training so you know how to use them all properly in an emergency situation – the correct and efficient use of this equipment could just save someone's life!
With that said, would you really want to ski off-piste with people who had but didn't know how to use this equipment? Your life is effectively in their hands.
I also recommend:
 – A helmet
– Adequate clothing
– First Aid Kit
– Mobile phone (but do not carry it next to your transceiver as it can interfere with the signal your transceiver emits)
– Spare layer or fleece
– Some water or something to drink (not beers – that's later in the Après ski)
– Having helicopter insurance
Optional safety equipment:
– Back protector
– Avalanche Airbag (e.g. ABS, Snowpulse etc)
– Avi-lung
The avalanche risk rating
This is the professionally decided rating on the average likelihood of triggering an avalanche. It takes into account the current amount, quality and bonding of the layers in the snowpack.
It can be found at any of the main lift stations on an information board (usually with a flashing light next to the corresponding number) Some of these locations are; one at the top of the steps as you walk up to get into the gondola at Medran and one in between the escalators and the walk to the turnstiles for the Funispace at Ruinettes.
The ratings are as follows:
1 – low risk
2 – moderate risk
3 – considerable risk
4 – high risk
5 – very high risk
I would recommend never skiing off-piste when the rating is a 4 or 5 and only if it is 1, 2 or 3. Having said that, most cases of people being involved in some sort of avalanche situation occur when the rating is a 3 – people think they will be safe as it is the 'middle ground' between 1 and 5. WRONG! Pay attention to what the number actually means and a 3 actually says considerable risk. You must take this into account. Avalanches also occur when the rating is a 1 too.
Taking part in a mountain safety course
 This is optional but highly recommended extra training on top of your Transceiver, Shovel and Probe training.
There are many courses you can take part in – some are a few days and some are just a 3 hour morning session.
It can help you understand the off-piste in a lot more detail thus can help you minimise the chance of triggering an avalanche. As the saying goes, prevention is better than cure.
Things your course may include are:
Use of safety equipment
Understanding the snow pack
Causes of avalanches
Effects of weather
How to assess the risk
How to avoid avalanches
Reading the terrain
Hire a guide
Hiring a mountain guide for the day really can be worth it. They know loads about the area and can show you some of the best off-piste skiing Verbier has to offer.
They can also help you find some of the best snow around that you may have otherwise missed if you headed off-piste with just you and your friends.
Most importantly, they can help keep you safe by using their invaluable mountain knowledge, experience in reading the terrain and understanding the snow pack.
Some final points
Here are a few final points to take away with you.
Never ski off-piste alone – This is a no brainer right? I mean, if something happened and no one is there to help you this would be a pretty bad situation.
All the gear and no idea… – Have appropriate training with your Transceiver, Shovel and Probe and know what to do in an emergency. I cannot stress how important this is. I don't mean to go away on a 3 week training expedition but some sort of course, training or practice with your equipment would be a good idea.
And also,
If in doubt, don't – Not sure that face or couloir you have been eyeing up for a while is safe at the moment? Then don't do it. Ski somewhere else. There will always be another day.
Stay safe, enjoy.
Lawrie