Meet our new ski instructor Georgia Carter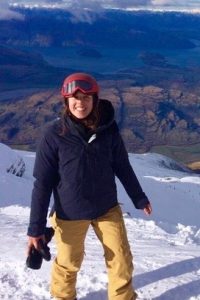 How did you end up in Verbier:
I've been working in a small ski town on the other side of the valley for a few seasons. Last season I visited Verbier and had some ski touring adventures around and absolutely loved it, so I've come to stay!
Weapon of choice:
I am on atomic redster X9
Best thing I have ever done:
I did a solo trip around the Annapurna Circuit in Nepal, it was really challenging but so epic. Not to mention, a yak burger in the Himalayas is probably one of the best things a person could ever eat.
Top teaching tip:
Always opt for mittens, and make sure you have fun! Talk to your instructor about what you want to do most, no one gets to be world class in a week so your next best option is to have a wicked time! Fear is totally counterproductive, so just take in the mountains, a big breath and give everything your best shot!
Favourite slope in the 4 valleys:
Tortin bu bu bu bumps!
Favourite restaurant:
The Dahu! The view is mega, its a an easy place to meet up with friends and family, and the food is exactly what you need after a big session on the hill!
Best place for drinks: The Loft Bar for sure!
If your clients need to see or do only one thing while they are in Verbier what would it be according to you!:
Besides ski!!? The luge run from Savoleyres. Just 10km of excitement!
Welcome to the team Georgia, we are very excited to have you on board!