Meet our ski instructor Sophie Bisset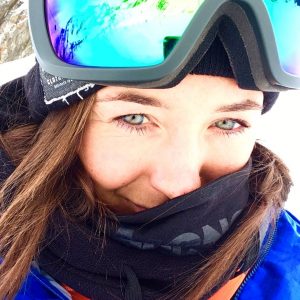 What skis are you skiing on?
Rossignal Hero SL WC 12.5r
How did you end up in Verbier?
I came for a weekend to visit a friend and immediately fell in love with the skiing and the town itself. Then by a happy coincidence I was asked to come and trail the start up of a race academy in partnership with the international school here Lemania – and that was me hooked!
What is the best thing you've ever done?
Realise that the Graduate, Job and city life wasn't for me, and so i decided to come back out to the mountains!
Your top teaching tip?
I have two:
1, RELAX,JUST DO IT –  I know that might be easier said than done when we are learning and concentrating, but it makes life harder when we are too tense. If my clients are nervous I  tell them to tense all there muscles at the top of a run, take two deep breaths and then try and exhale all that tension. You got this!
2, Take a moment to stop and look up – we often are so concentrated on what are skis are doing when we learn that we forget to actually stop look at the scenery around us, and its pretty spectacular!! so stop, take it in, the mountains are why we are here after all!
Favourite slope in the 4 valleys?
I love a bit of the Gentianes Itinerary run, especially in the spring time with that slushy snow 🙂
Favourite restaurant?
I would have to say Namaste. The food is great, and the restaurant itself has great atmosphere, lovely staff and a great view! Great for lunch or for catching the sunset and dinner.
Best place for drinks?
It's got to be Vignabagnes in the evening sun after a long day of skiing. It has a great little outside terrace where you can enjoy your well earned wine/beer and people watch for days!
If you're clients need to see or do only one thing while they are in Verbier what would it be according to you.
I mean there is so much to do and see….but I would have to say take the snow cat up to one of the on the mountain restaurants like Namaste/Chez Dany/Carrfour for dinner and then sledge back down. Not only will you get beautiful views of Verbier from the mountain, but then fun for the whole family by sledging down, a great evening out!
Very excited to have you on the team Sophie, Thank you!