Meet our ski instructor Alex Watts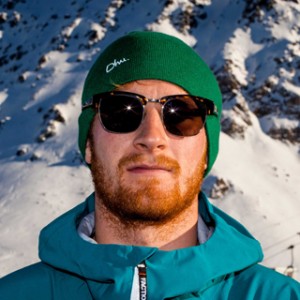 How did you end up in Verbier?
Like a lot of British instructors I came to Verbier to work whilst training for my final instructor exams. I don't think I intended to stay more than one season but the place kinda draws you in and the more you get to know Verbier the better it gets.
What skis are you skiing on at the moment?
On piste I mainly ski and teach on Rossignol Hero Masters. Firm and responsive! When it snows Armada JJ's.
Best thing you've ever done
Probably blagging my way onto a heli trip in northern British Columbia for a free days heli-skiing. To this day I have never skied such steep slopes with such deep snow on them (outside Verbier……;).
What is your top teaching tip?
Don't think too much! Sounds counter intuitive when your trying to learn something new but filling your head with too much information kinda clouds your natural reactions and interrupts the flow of skiing.
Favourite slope in the 4 valleys?
The L'Eteygeon itinerary off the back of Greppon Blanc. Its not the hardest itinerary but it feels like you are secluded and away from the resort when you ski it. The hike to get to it keeps a lot of people away meaning there are usually fresh tracks to be had when the other itinerary's are turning into bumps fields.
Your favourite restaurant?
Chalet Novelly in Siviez is a great wee spot. It looks unassuming and that's part of its charm. The food is no frills and tastes great. They also serve massive insulated mugs of vin chaud!
Best place for drinks?
Vin a Bagnes for a bit of class. You can sit here enjoying the last of the sun and watch the crowds head down from the Medran lift after a day on the slopes. Then when the sun disappears stumble down the hill to Loft for some slightly more chaotic and grubby ski bum vibes when a band or DJ are playing.
If you would recommend to see or do only one thing while they are in Verbier what would it be?
Ski in Bruson on a powder day! If your lucky enough to get a proper dump of snow, Bruson is such a great playground to explore. Its always quiet and the tree runs are endless.
Thank you Alex and we will for sure see each other at Chalet Novelly with a cup of Vin chaud in our hands!