Get to know our ski instructor Johanna Skantze a bit better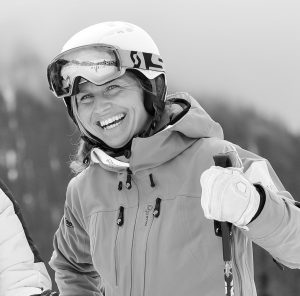 What skis are you skiing on?
Extrem PT84 (all mountain), Armada VJJ (powder)
How did you end up in Verbier?
I came to Verbier the first time five years ago to visit one of the coaches at Powder Extreme. One visit turned into two, three and four that same season and today we have a 4 year old son and are going to spend our fifth winter season as a family in Verbier.
Best thing you've ever done?
Best thing… There are so many great things to choose from. One of the best things is when I catched the first gondola up to Mt Gelé together with Anders (my partner). It was the first sunny day after a BIG snowfall and I remember getting strict instructions even before entering the gondola; "We are getting on last so that we can get out first and then when we get up, we run. You just follow me, ok?". We had the most amazing powder run and I was laughing all the way up again for the next run…
What is your top teaching tip?
To find out what would contribute the most to the client and share my passion for skiing with them.
Favourite slope in the 4 valleys?
Cruising down from Col des Gentianes to La Chaux, I love that run.
Favourite restaurant?
On the slopes, Cabane Mt Fort for its authenticity and simple yet delicious food. In Verbier, Le Shed for its amazing burgers and fries.
Best place for drinks?
The sunny balcony at Pub Mt Fort after a great day of skiing or a glass of wine at cozy Fer a Cheval before dinner.
If you're clients need to see or do only one thing while they are in Verbier what would it be according to you?
The amazing view from the top of Mt Fort!
Thank you, we hope you have a great season Johanna!