Get to know our ski instructor Gina Weston a bit better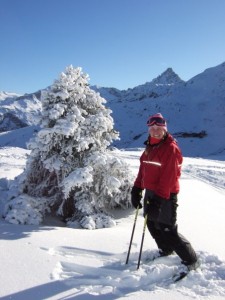 How did you end up in Verbier?
Just as Rich said …….(Ginas husband)
We met race training, I was running a chalet company in France, Rich was working in USA at the time, we wanted to do a season together and neither of us had been to Verbier but we had heard good things!!
What skis are you skiing on?
Fischer RC4 for piste
Idris Chamois for most other things!!
Best thing you've ever done?
I've been lucky enough to do some amazing traveling around the world but in March I became a mum and it's an exhausting rollercoaster but definitely the best thing in the world!!
Top teaching tip?
Well we have had some great tips so far in the other interviews, but mine would be to…..Enjoy your self! Skiing is ment to be fun. Smile look, at the view, enjoy the sun and vin chaud! But everyday do something that challenges you and you will improve!!
Favourite slope in the 4 valleys?
Vallon d'Arbi, you feel like your away from the hussle and bustle of a ski resort!
Favourite restaurant?
Carrefour rosti or steak defo!
Best place for drinks?
Loft to chill, especially in spring on the terrace, in the sun!
If you're clients need to see or do only one thing while they are in Verbier what would it be according to you.?
It's been said before but definitely get to top of Mont Fort! That view is amazing, I never get bored of it!!!
Thank you Gina and hope you have a great season!